Body Lifts and Suspension lifts explained
May 26, 2018 | ABS
See the images below: Three-inch body lift (left) vs. three-inch suspension lift (right). The differences are slight at first glance (notice pronounced exhaust tips on body-lifted truck and increased ground clearance on suspension-lifted truck), but there can be big differences in performance.

Many people know what a body lift is, as well as what a suspension lift is, but you may be having a hard time deciding which is best for you and your truck, SUV, or Jeep. The staff at Andy's Auto Sport figured that we'd make things a bit easier by giving you the scoop on both. Let's start with a standard definition of each type of lift, as well as the advantages and disadvantages of each.
Body Lift
Typical body lift installation (left), typical body lift kit (right)

A body lift achieves a higher perceived ride height by adding spacers between the cab and bed of a truck, usually stacked on top of the vehicle's original body mount bushings. While the body is now higher, the chassis, suspension, and wheels remain at the same original height relative to the ground. Body lift kits will require you to extend the steering column shaft and raise your bumpers to match up with the body's new height, as well as lower your radiator shroud, but a body lift kit will come with all necessary hardware to accomplish this. In general, a body lift is a great option for those who simply want to install larger tires on their vehicle, and Andy's carries many body lift kits that can more than handle the needs of the average off-roader.
Pros
-Enhanced looks
-Increased tire clearance
-Relatively easy to install
-Cost-effective
-Does not affect ride quality whatsoever
-Retains factory suspension geometry, and therefore does not require a wheel alignment
Cons
-Some people don't like body lifts because of the gap they leave between the truck's frame and the cab/bed. On a positive note, gap guards are available to fix this unsightliness, and tubular side steps are often added to hide the sides of the frame
-Slightly higher center of gravity
-In most cases, your trailer hitch will be more exposed, which is aesthetically unpleasing to some
-There can be lots of small details to address when installing a body lift, such as extending fuel filler hoses
-Offers no performance advantage other than tire clearance
-Generally can only lift your truck a maximum of three inches, which some consider to be only moderate.
Suspension Lift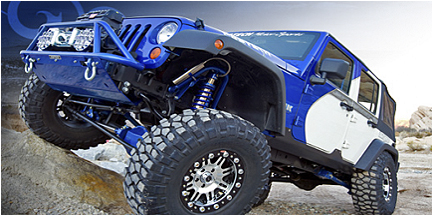 By contrast, a suspension lift creates more vehicle clearance by spacing down your vehicle's factory suspension, or by replacing the suspension completely with new components designed to raise the chassis up a considerable amount. Typical components of a suspension lift kit can include longer coil springs, coil spring spacers, torsion bar keys, taller leaf springs, "Add-A-Leaf" spring supplements, subframe relocators, lift blocks, lift shackles and/or shackle relocators, lift hangers, lifted control arms, suspension links, and coilover shocks.
Complete lift kits come with everything you need to get your ride high in the sky (Pro Comp lift kit shown below)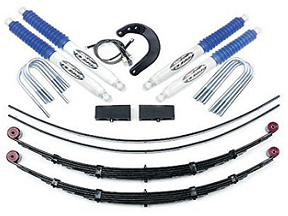 Pros
-Enhanced looks
-Increased tire clearance
-Improved suspension performance in off-road situations
-Vehicle can potentially be lifted much more compared to a body lift
-Many options, from budget-friendly to serious competition
Cons
-Higher center of gravity
-Can be costly, depending on the kit
-Ride quality can sometimes not be as soft as factory depending on the kit, although some owners prefer a more "truck-like" ride
So You Want to Make It a Large Combo?
Yes indeed, some people install both a body lift and a suspension lift together to get their trucks that much higher, allowing them to clear bigger tires than would be possible with a suspension lift alone. Be aware, however, that some suspension lift kit manufacturers discourage the use of body lift kits when using their suspension lifts, as they feel that the vehicle may become too top-heavy if lifted past a certain point, and may affect the warranty on that manufacturer's lift kit.
You Ready to Get Down… Err, Up?
Choosing a lift kit can be a daunting task, but remember to keep it fun. After all, off-roading is supposed to be relaxing. No matter which way you go, your rig will be looking meaner and ready to hit the trails in no time, and your ride will surely be the envy of everyone else on your block. Andy's Auto Sport is always here to help, offering the latest and most popular applications at the best prices anywhere.